Drawmer 1968 Illuminates Acoustic Instruments
Accurately capturing the natural sound of an acoustic instrument in the recording studio can be a tricky endeavor, requiring some combination of time, money and experimentation. But Tom Macomber, banjo player with the gospel band Summer Church and the owner of an independent record label, Walkin' On Water Records, believes he has found what he has long been looking for with Drawmer's 1968 ME, a special edition two-channel tube/FET compressor that simply illuminates the true character of his instrument.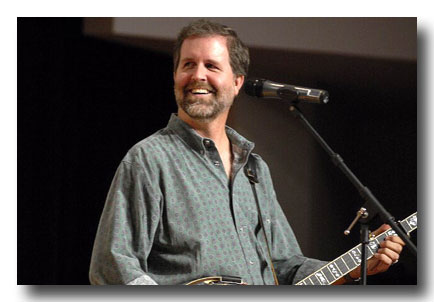 "When we put that Drawmer 1968 on my instrument two weeks ago, on a Sunday, suddenly I was hearing the banjo sound that I hear when I play my instrument," says Macomber. The musician and producer started WOW Records as an outlet for his own band with a little spare cash 13 years ago and has since developed it into a label with a growing roster of Christian music artists.
The 1968 is the compressor section from the Drawmer 1969, a FET compressor with tube output stages. The 1968 is designed to deliver a transparent sound even under the heaviest compression. "We have another compressor that is the most transparent thing I've ever used," says Macomber. "I like it a lot, but to my ears, when I listen to the playback through the Drawmer, it puts the richness the instrument had in the first place right back in."
Macomber, who is endorsed by U.S. instrument manufacturer, Deering Banjo Company, says that what he has always experienced during playback has never quite matched up to what he has heard as he performs in the studio. "I've never lacked for signal to tape," he shares. "And I've got some recording gear that I use that I like a lot. But the Drawmer 1968 ME gave me what I'd always heard in my head but I'd never heard coming out of the playback."
He continues, "It's very warm and rich and musical sounding without adding all kinds of artifacts that sound like you've processed the signal. You hear recordings where they put on reverb and EQ something to death and it doesn't sound like any instrument you've heard before. A banjo has a lot of bell bronze and sometimes you want a chiming, bell-like tone in certain hand positions. The Drawmer accentuates that, and lets me hear what I thought I'd played."
Macomber shares, "I do a lot of work out of two different studios in Upland and Ontario, California. One studio is digital and the other is all analog; that's where I prefer to track." But, he says, "I love the banjo's signal going to tape, but I've never really been satisfied with the mix that we get."
All that has changed with the addition of the Drawmer 1968 ME, which now brings a realistic character to the banjo that allows it to sit perfectly in the mix. "A perfectly neutral preamp does reproduce your instrument faithfully," Macomber acknowledges, "but somehow you do want to add something, some character. The Drawmer gives me that character. It makes the instrument sound like it belongs."
Macomber purchased the Drawmer unit through his favorite dealer, Sweetwave Audio, located near Denver, Colorado. I had a great response from Drawmer, a great response from TransAudio, and Sweetwave is great to deal with."
As Macomber works toward completing the next Summer Church album release, he is happy that he has finally found the sound that he has been looking for. "I told Richard at TransAudio, my banjo finally sounds like my banjo."
"TransAudio Group, founded by industry veteran Brad Lunde, has quickly become the premier U.S. importer/distributor and/or U.S. sales and marketing representative for high-end audio. Success hinges on TransAudio providing dealers and end users with a higher standard of product expertise and support far beyond the norm. TransAudio Group's product lines include A Designs (USA), ATC (U.K), Daking (USA), Digital Audio Denmark (Denmark), Drawmer (UK), Enhanced Audio (Ireland), George Massenburg Labs (USA), Heil Sound (USA), Pauly (Germany), Sabra Som (Brazil), Soundelux (USA), and SoundField (UK)."
Original article found at http://www.appleproaudio.com/Article855.html (No longer available)